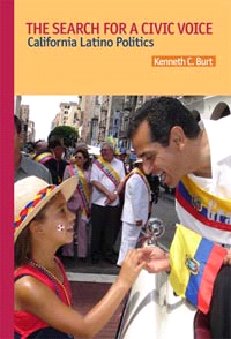 SANTA PAULA –The best-selling author, Kenneth C. Burt, will speak at the Santa Paula Latino Town Hall annual awards dinner at the Santa Paula Community Center addressing the great role and alliances of the Hispanic vote in the 2008 Presidential election.
Burt, best known for his book, The Search for a Civic Voice: California Latino Politics will speak at 7:00 p.m. on Saturday, September 6, 2008 at the community center at 530 West Main Street in Santa Paula.
The awards event begins with a hosted social, followed by dinner and keynote speaker, Kenneth Burt. Ferial Masry, the Democratic candidate for the 37th Assembly District will introduce Burt. Community awards will be given to honorees for community service, business, education, youth and the Raymond Garcia Humanitarian award to local Santa Paula residents.
The Harvard-educated Burt is the political director for the California Federation of Teachers and a visiting scholar at U.C. Berkley.
The event will include a talk and question-and-answers. Books will be available for purchase.
Event tickets are available for $45.00 each and may be reserved by calling Dr. Gabino Aguirre, President of Latino Town Hall at (805) 525-6969. All dinner proceeds go to local scholarships and community charitable projects.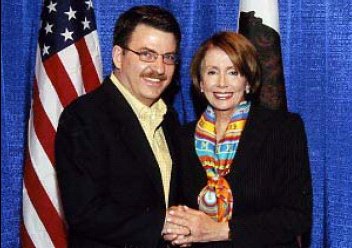 Many local elected officials and candidates are also expected to appear, make your reservations now for this annual sell-out event.
The book can be pre-ordered through Amazon. Jackie Kennedy is featured in the first-ever Spanish-speaking television ad on the author's website: www.KennethBurt.com.
Los Angeles Mayor Antonio Villaraigosa wrote the foreward to the book, which features Ventura County's own pioneering Latino leader, Hank Lacayo.
(Kenneth Burt with House Speaker Nancy Pelosi)
UFW co-founder Dolores Huerta says: "Kenneth Burt understands the convergence of social movements and partisan politics."
"This is quite an achievement, because there are no publications on Latino politics in California or elsewhere available with such extensive coverage", states Francisco E. Balderrama, professor of History and Chicano Students at California State University, Los Angeles.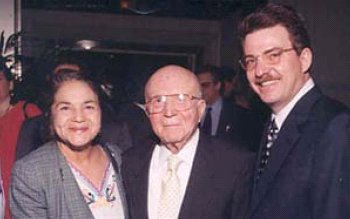 Burt with UFW cofounder Dolores Huerta and Gus Hawkins, the first African American member of Congress from California, at the 50th anniversary celebration of the state's Fair Employment Practices Act, sponsored by the Jewish Labor Committee in 1999